Performance Label Materials
The Construction of our High Performance Labels
Our safety labels are a composite of compatible high performance quality material layers, each with a distinct function. The illustration below shows the material components used in the production of our high performance safety labels.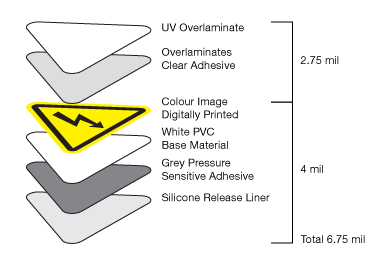 Adhesives and Application Procedure
The backing layer of our labels peel off to expose the grey solvent based permanent high tack adhesive. The pressure sensitive adhesive on the label's base material forms a bond with your product's surface. This adhesive is designed to adhere to both low surface energies and high surface energies (such as plastic and metal surfaces, including powder-coated painted surfaces). This adhesion is a critical factor for long life label expectancy.
Cleaning Instructions
All surfaces should be considered unclean and MUST be cleaned prior to application of the label. For relatively clean surfaces, wipe the surface with isopropyl alcohol. Between each alcohol wipe, wipe the surface dry with a clean lint-free cloth. For contaminated surfaces that may have residues of oil, grease, wax, etc, it is important to note that a petroleum distillate based cleaner must be used. Isopropyl alcohol evaporates too rapidly and effective cleaning does not take place.
When cleaning contaminated surfaces, if dirt persists, wash the surface with detergent and water. Repeat the process listed above with the cleaner to obtain a suitable surface for the labels application. Finish by drying with a clean lint-free cloth.
Application
Prior to application of a pressure sensitive adhesive backed label, the surface to be adhered to must be at least 50°F (and no lower than 32°F). Make sure the surface is clean and dry. Mark the correct position for the label. Remove the label from its liner. Position the label on the application surface (be careful not to touch the adhesive with your fingers or to allow the adhesive to become contaminated with dust and dirt). Working in one direction only apply firm pressure allowing air to escape until the label is applied. Applying firm pressure allows the adhesive to "flow" between the label and the surface. The adhesive bond will grow stronger with time, achieving final bond strength in approximately 72 hours.
Colour
The colours used on our safety labels, and their stability, are an important aspect of our safety label systems. The right colours are required for compliance to national and international codes and standards related to safety signs and labels. Colours also play a role in a labels effectiveness, for example our ANSI Z535.4 compliant labels are colour coded to help identify the potential severity of hazards, a code, that once learned, is easy to follow and understand. An explanation of the colour headers of labels can be found on our product listings pages.
UL® Recognised Components
Our High Performance Labels use materials cerified by Underwriters Laboratories® for use in lables and markings. These requirements cover adhesive-attached labels for use as permanent nameplates or markers; bearing information, instructions, or identification in the form of text or pictographs. The adhesive may be pressure-sensitive, heat-activated, or solvent-activated. These labels are intended to be used by manufacturers for application to their products at their place of manufacture.
UL Recognized Components certified for UL 969 "Marking and Labeling Systems" (USA) and CSA C22.2 No. 0.15 "Adhesive Labels" (Canada).

For more information on label materials and durability requirements, contact us at (01226) 321155 or sales@modernsignsdigital.co.uk.